DOCUMENT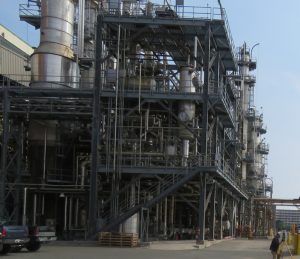 A chemical processing facility was in need of installing a new stack within the existing maze of piping and mechanical equipment making up their plant. The complex nature of the four-story assembly made for a logistical nightmare in determining how to insert the new equipment within the existing process while minimizing impact to existing infrastructure. Conventional location methods would be extremely expensive and time-consuming and even then would only provide a partial picture of the difficulties to be overcome. The practical solution would be to create an accurate 3D model of the existing facility in which to design the proposed improvements.
DESIGN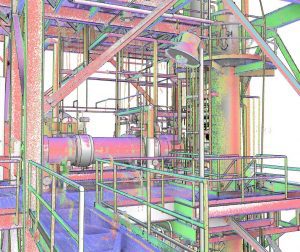 With this goal in mind, LandTech Consultants was hired to conduct a detailed 3D laser scan of the existing facility and then prepare a full detailed model complete with all piping, tanks, equipment, valves, pipe hangers and instrumentation in order to understand fully the impacts of the new processing equipment.
DEVELOP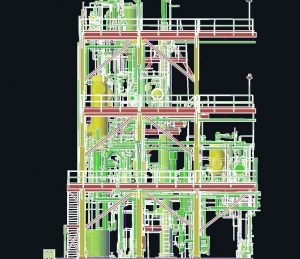 Within three weeks, LandTech was able to deliver an extremely accurate and detailed 3D model of the facility produced in Revit and AutoCAD to assist designers in laying out the new improvements. With over 5,000 individual elements created within the model, the client can now accurately ascertain all impacts of the proposed improvements, can prefabricate assembly components to minimize down time and can accurately schedule which portions of the plant will be out of commission during construction.